Maximize SQL Server monitoring with custom metrics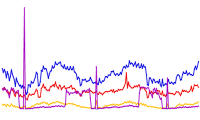 SQL Monitor is a performance monitoring and alerting tool for
SQL Server, with a web-based UI. Its custom metrics feature lets you run T-SQL queries against SQL Servers to collect specific data. But what if you don't want to write your own queries? No problem. Red Gate has brought together a range of quality custom metrics for you to use in SQL Monitor.
Find
Browse popular metric categories or search for keywords or authors
Discover new and useful ways to monitor your SQL Servers
Decide quickly which metrics will broaden your monitoring range
Use
Automatically install a metric in your version of SQL Monitor
Tune settings specific to your environment by following our guidelines
Start collecting, analyzing and alerting on data right away